Attorney Phillip J. Mitchell, Jr.
Founding Attorney and Partner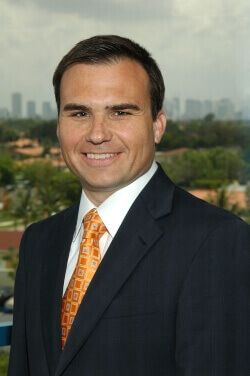 Phillip J. Mitchell, Jr. is the founder and an equity partner in Mitchell & West, LLC. Mr. Mitchell is an aggressive lawyer who devotes himself to the fight for justice while maintaining the highest ethical standards of professionalism. To date, Mr. Mitchell has tried over forty cases to conclusion.
Types of Cases He Handles
He represents parties in civil and criminal matters. In civil matters, he concentrates his practice on civil litigation, primarily handling plaintiff's claims, including but not limited to:
In criminal matters, he concentrates his practice on cases wherein the Fourth Amendment of the United States Constitution has been implicated.
Actions for negligent security against property owners wherein the victims have been murdered or sexually assaulted
Premises liability claims
Trucking litigation
Civil rights violations
Traumatic brain injuries
Product liability claims
Wrongful death claims
Background and Experience
Prior to founding Mitchell & West, L.L.C., Mr. Mitchell was an Assistant Public Defender for the Miami-Dade Public Defenders Office for over three years and an Associate Attorney at Marlow, Connell, Valerius, Abrams, Adler, Newman and Lewis.
Awards and Recognition
His law firm has been awarded the designation of Super Lawyers and been named to the Million Dollar Advocate Forum.
Community Service
Mr. Mitchell is active and generous with his time within the local community. He strongly believes in leadership and community services. He has demonstrated his beliefs by establishing a yearly charitable event, the Mitchell & West, L.L.C. Reindeer 5K Race, which occurs on the first Saturday in the month of December of each year.
Additionally, he has served on a number of boards within the City of Coral Gables, which includes the Economic Development Board and the Emergency Management Board. Lastly, Mr. Mitchell is a Master Mason and past president of the Theta Mu Chapter of the Kappa Sigma Fraternity.
Memberships
American Association of Justice
Florida Justice Association
Miami-Dade Justice Association
Florida Association of Criminal Defense Lawyers
Coral Gables Bar Association
Southern Trial Lawyers Association
Million Dollar Advocates Forum (Life member)
Education
Northwestern State University (1995)

Bachelor of Science in Psychology

Florida Coastal School of Law (2000)
Bar Admissions
State Bar of Florida
State Bar of Louisiana
Mr. Mitchell actively practices in several State and Federal Courts in Florida and Louisiana.

Learn From Those Has Has Represented
5 /

5 stars
My husband was in a very difficult situation with an old criminal case and Mr. Mitchell was able to vacate those cases that wore over 10 years old and through the whole process Mr. Mitchell always kept us updated and explained to us the entire situation a step at a time. He not only gave us hope, but he won the cases. Mr. Mitchell is a man with a heart of gold that will fight for you and treat you like family. There might be many lawyers in Miami but there is only one that will truly work hard to win your case. He is very knowledgeable and aggressive in fighting for you. He has gone far and beyond my expectations. I highly recommend him to everyone and I will be forever grateful for everything he did to keep my family together.
5 / 5 stars
Attorney PJ Mitchell is a brilliant top-notch attorney that impressed me beyond words. He handled a negligence matter for me that was very difficult for me to face or discuss. Mr. Mitchell's confidence and strategy to prove my case was not only exceptional, ethical, and accurate to me but also to colleagues, mediators, and Judges. PJ believed in me since day one. He obtained evidence that no one would imagine possible. The significant hard work, dedication, and intellect of a brilliant attorney obtained me a settlement of $1.6 million dollars. I am forever thankful to Mr. Mitchell for his huge success in my case and how diligently he handled a case against a very powerful entity. The amount of evidence in my favor proved that my case was true and was a huge victory. I highly recommend Mr. Mitchell and often remind him how thankful I am to have had him represent me and not give up on me. Forever thankful PJ, you know who I am and do not reveal my name because you also protected my identity. Top attorney.
- Former Client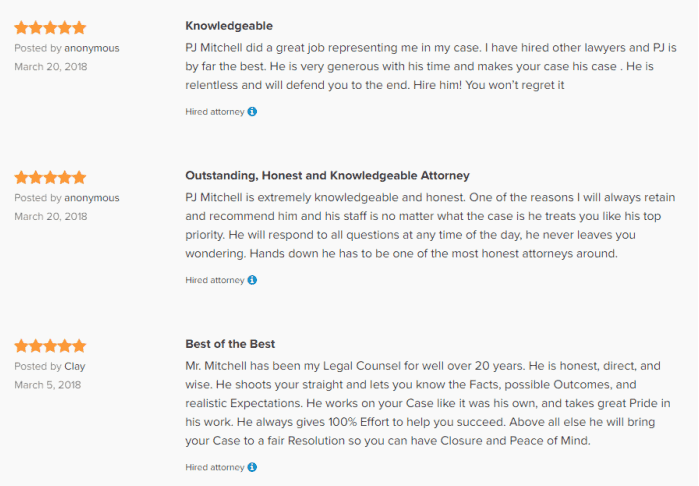 View more reviews here.