Miami Property & Asset Division Lawyer
Understanding Property/Asset Division in a Florida Divorce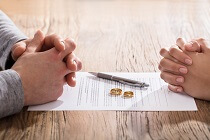 During a divorce, the division of marital property, assets, and debt is one of the most common disputes for couples. Such disputes often require the assistance of a lawyer to help resolve efficiently.
In Florida, spouses are required to divide marital property equitably, unless there is reason for an unequal division. Marital property and assets can include:
Residential home
Vacation homes
Real estate assets
Shared business assets
Household goods
Personal belongings
Retirement assets
Investments
Pensions
Motor vehicles
Our attorneys can work with financial experts who can assess the value of the marital property at stake in order to determine an equitable division while also uncovering potential hidden income and assets. At Mitchell & West LLC, we represent a variety of different divorce cases involving all different types of assets and property, including divorces with high-value assets. We have seen it all and know how to best represent your interests and ensure that your spouse does not try to take more than what is fair.
Division of Shared Marital Debts
In addition to dividing the property and assets you and your spouse must discuss and divide, you will also need to divide shared debts. You may even be more concerned about how your debt will be divided, which one of our Miami family law attorneys can discuss with you.
This may include automobile debt, home mortgage, credit card debts, and independent loans. We want to ensure that you not only get your fair share of property, but also that the debts are shared evenly and fairly.
Would you like to make an appointment for a consultation with one of our Miami family law attorneys? We can the disputes that you and your spouse are facing as well as how we can help you equitably divide your shared properties.
Our lawyers and team strive to provide you with personalized attention throughout the process. Contact us today at (305) 783-3301 to set up a consultation.